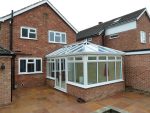 Key Features
Thermal Efficiency
Our conservatory roofs use argon filled chambers to trap heat inside the conservatory, keeping them warm during winter. However, our glazing options allow you to choose glass reflecting solar heat, which can also help keep homes cooler during summer.
Environmentally Friendly
We want to be environmentally conscious. Our glass conservatory roofs are made completely lead free, which is not only beneficial for the environment but for your customers too. We have set this rule for ourselves long before legislation. You can also feel good knowing our products are completely recyclable so that they can be repurposed even after their long life.
High Security Locking System
When you choose us as your glass conservatory roof supplier, you can assure your customers they are safe. We understand that when installing a new roof, customers may have reservations about safety, especially as, historically, conservatories have been seen as a weak point. We have made it extremely difficult for any unwanted intruders to enter.
Durable Materials
Our glass conservatory roofs are exceptionally strong. Your customers can expect them to withstand even the harshest of weather conditions. You can trust that we only use robust, premium grade materials in our glass conservatory roofs.
Why Choose Us?
We are committed to creating the best possible service for you. Our customers always get the best products and have access to the broad spectrum of knowledge our team has collected over the years. You can trust all of our products are made within the UK and are rigorously tested to ensure they meet building regulation standards. If you would like to work with us, please contact us.
Who Are SFX Trade?
We are a family run home improvement company based on the South Coast of England in Waterlooville. Our services also cover the Hampshire, Surrey and Sussex areas. We have been in the industry for over 30 years; however, we recently opened our doors in 2011 and offer quality products to people in the trade and the DIY market. 
Can you replace a plastic conservatory roof with glass?
Yes, you can. We recommend your customers do. Since old polycarbonate roofs offer no protection against heat gain and are poor insulators, glass conservatory roofs are the superior choice in roofing for conservatories. Polycarbonate roofs overheat in summer and are too cold to use in winter.
Where do you deliver?
We are based in the South Coast of England in Waterlooville. We supply our glass conservatory roofs to the Hampshire, Surrey and Sussex areas. If you want to work with us, you can expect free delivery. We also pride ourselves in getting our products delivered to you as quickly as possible, with the option to have your items in as little as five working days.
What other products do you offer?
We specialise in windows, doors and roofs. However, we also offer cladding, fascias, soffits & guttering services. If you would like to find out more about the services we offer, please get in touch with one of our knowledgeable team members for more information.
What customisation options are available?
Allow your customers to choose from our surplus of colours: White, Cream, Chartwell Green, Irish Oak, Golden Oak, Rosewood, Grey and Black brown. All these colours and foils can create a stunning effect on your customers' new glass conservatory roof. If you want to learn more about our customisation options, please contact a team member today!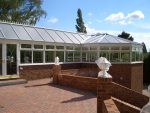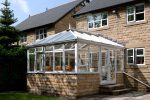 YOUR BUILDING NEEDS
Request a Free Online Quote
If you would like to find out more about our products, please contact us today! Alternatively, utilise our free online quoting system for more information about our products.
GET a quote