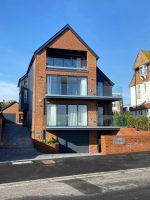 Key Features
Popular Choice
UPVC is one of the most popular choices in the UK today for Fascias, Soffits and Gutters with 85% of buildings benefiting from this cost effective, highly durable, environmentally friendly, safe, secure and robust product
Reduce Leaks
Each gutter system is co-extruded with a white interior using the latest co-extrusion equipment and technology. Its absorption of heat from the sun and expansion will be significantly reduced. This innovative solution helps with problems such as leaks.
Customisation Options
At SFX Trade, we understand that customers usually have a particular look in mind regarding any home improvement procedure. Our guttering systems have various colour options to suit your customers' current architecture.
Long Lasting Materials
UPVC and aluminium rooflines will not rot, will not need painting, do not discolour, and will remain almost maintenance free for up to 40 years.
Why Choose Us?
We are committed to providing you with the best service possible. We want all of our customers to come away feeling happy and supported. You can put your trust in the quality of our products. They are vigorously and constantly tested to ensure the best possible quality. If you need further assistance, our friendly and knowledgeable team is always here to help and give support and recommendations for any project.
Who Are SFX Trade?
We are a family owned business based on the South Coast of England in Waterlooville. We can also supply our products across the Hampshire, Surrey and Sussex areas. We have been in the window and double glazing business for over 30 years, and in 2011, we established SFX Trade to offer quality products to people in the trade and the DIY market.
More Features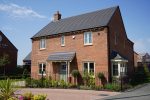 Quality Guarantee
We believe in the quality of our products, therefore on our roofline products we offer a 10 year guarantee. Including Class 1Y and 2Y fire resistance, you can rest assured that our fascias, soffits and guttering products will be around long after installation with security and safety in mind during manufacturing and after installation.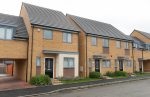 Better For The Environment
Our fascias, soffits and guttering products are completely lead free, and have been long before official legislation. uPVC is fully recyclable and won't end up in a landfill unlike other less friendly materials.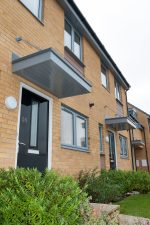 Simple Installation
Our fascias soffits and guttering systems are easy to install. With our easy to use installation guide, you will have no problem fitting them into your customer's homes. Being premarked and including lined protective tape, you can easily measure our range of fascias, soffits and guttering. Paired with 100mm centred pin guides and 25mm line intervals, installation has never been easier. 
Can you replace the soffit without removing the fascia?
The soffit is underneath the fascia, so it's best to remove the fascia boards before replacing the soffit to avoid damage.
Can rotted soffits cause dampness?
Yes, rotted soffits are one of the leading causes of dampness. Once water has breached the outer layer, it is a matter of when, and not if it will need replacing. Water ingress paves the way for woodworm and many other vermin to set up home ultimately causing structural damage. Choose quality roofline materials from SFX trade today.
What are standard gutter sizes?
For residential gutters, the standard size is five inches. Homeowners can also opt for six inch gutters, which hold significantly more water. While 5-inch gutters are traditional, some homeowners opt for larger ones.
Where do you deliver?
We are based on the South Coast of England in Waterlooville. We supply our fascias soffits & guttering to the Hampshire, Surrey and Sussex areas. If you want to work with us, you can expect free delivery. We also pride ourselves in getting our products delivered to you as quickly as possible, with the option to have your items in as little as five working days.
What other products do you offer?
We specialise in windows, doors and roofs. However, we also offer cladding, fascias, soffits & guttering services. If you would like to find out more about the services we offer, please get in touch with one of our knowledgeable team members for more information.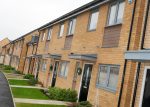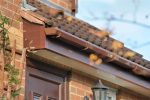 YOUR BUILDING NEEDS
Request a Free Online Quote
If you would like to find out more about our products, please contact us today! Alternatively, utilise our free online quoting system for more information about our products.
GET a quote